Looking To Find Botox® Nurses in Bristol?
Lots of men and women are searching for a Botox® nurse in Bristol to help them treat their fine lines and wrinkles. Botox® is just one brand name of the safe and effective injectable prescription only medicine, Botulinum neurotoxin (BoNT). BoNT is produced by the bacterium Clostridium Botulinum and is manufactures by a select few pharmaceutical manufacturers around the globe but chiefly in Europe and the USA.
Why Choose a Nurse to Give Botox® Injection Treatments in Bristol?
Good question! Doctor Brad, in line with aesthetic industry leaders, recommends that BoNT injections should only be given by properly trained medical professionals. Indeed, there is a wind of change blowing through the regulation of the aesthetic medicine sector in the UK that is not entirely unlikely to forbid non-medics from carrying out these kind of treatments in future and that includes fillers.
Most nurses in the UK are not allowed to prescribe prescription only medicines (POMs). A minority of nurses in the UK complete what is known as a "Nurse Prescribers Course" to allow them to prescribe a number of POMs. A nurse with such qualifications is allowed to prescribe BoNT for a patient and then administer it if she thinks it is appropriate. However, some nurses offering BoNT treatments do not even hold that qualification and have to get a doctor to prescribe it for them. These days, that funny situation means that the patient will still have to consult with the prescribing doctor before the nurse can go on to administer the injection. This incurs additional fees from the doctor taking responsibility for the assessment and prescription. I wonder how many patients know they are being treated by a nurse that can't prescribe the medicines she is injecting. I wonder how inconvenient it is for a patient to have to attend a separate assessment with a doctor then attend for the actual treatment separately with the nurse. Some would say that is a poor offer.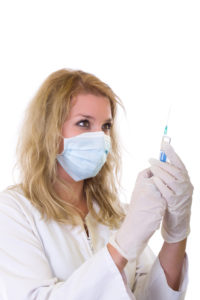 Why would you choose a nurse over a doctor to administer BoNT treatments?  It is a statement of fact, not criticism, that doctors undergo more rigorous and thorough formal training and assessment in physiology, pharmacology and anatomy at university than their nursing colleagues. Doctors are also, by definition, generally more able to identify a wider range of skin and physical pathology in their patients than nurses and Dr Brad is happy to comment on other skin conditions and problems in his consultations than just wrinkles! In the event of a complication arising from any treatment, a doctor may be best placed to diagnose the problem and to exclude other causes than a nurse. A doctor is also able to independently prescribe any medicines needed to treat such complications and a wider range of prescription only medications.
Let me caveat all this by saying that there are some prominent nurses in the UK aesthetics community with a high level of skill and experience. If you choose one, consider only choosing the best.
Low Botox Nurse Prices?
Potential patients may initially be attracted to the idea of a nurse when they are searching for Botox treatments and I think that this is because they expect that the nurse will be significantly cheaper than a doctor. However, I can say that is not necessarily always true. I have seen examples of nurses profiteering by charging as much as and often more than doctors for the same treatment. As people learn more and more about wrinkle treatments and similar interventions, they may start to realise that the doctor is always going to be the best choice for them when it comes to facial aesthetics and administration of prescription only medicines. Doctors are registered and regulated at the highest level by the General Medical Council and may also offer mobile services.
I encourage the people of Bristol looking for a Botox® nurse to choose Doctor Brad instead. Dr Brad is proud to be competitive on price whilst offering and maintaining the highest clinical standards and outcomes for his patients. Why not call now to book an affordable aesthetic medicine appointment today.