Liposuction Clinic in Bristol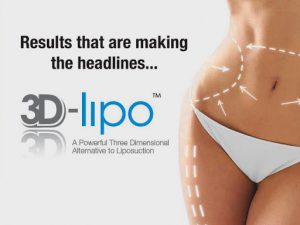 Liposuction is the surgical procedure to remove subcutaneous fat using stiff suction cannulas passed back and forth under the skin. A similar surgical procedure, laser assisted liposuction, is also often referred to as Vaser liposuction.
Not everyone feels comfortable with the idea of undergoing a surgical procedure to remove excess fat and now Dr Brad's clinic offers an alternative.
Cryoelectrolipolysis is a non-invasive, non-surgical alternative to liposuction that works by sucking localised areas of fat into a suction cup and cooling it to sub-zero temperatures whilst passing a mild electrical current through it. This 30-60 minute treatment eliminates 20-40% of fat cells in the treatment area in just one session for a leaner look.
Dr Brad delivers cryo and a range of complementary specalised fat loss treatments using the famous  "3D Ultimate" clinical platform at his private Bristol clinic. These treatments meet the needs of the modern patient by being considerably more gentle and low risk than surgery whilst still being effective. Downtime is either non-existent or minimal. Call now for more information.