Pelleve RadioFrequency Skin Treatment.
"Pelleve" is a premium and highly effective radiofrequency or RF, therapy for fine lines, wrinkles that plumps up and improves the appearance of skin with effects that are said to potentially last 1.5 to 2 years or beyond.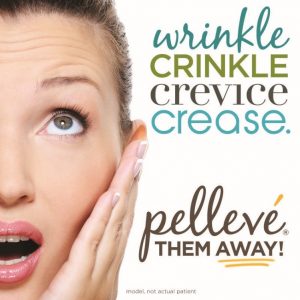 The Pelleve Glidesafe handpiece delivers a steady flow of carefully controlled, gradual and constant transmission of RF energy to your skin during a Pelleve "procedure", in contrast to earlier pulsed RF energy devices whose "treatment" protocols were rigid and not customisable to the patient.
Pulsed RF device drawbacks included pain, the higher risk and occurrence of both superficial burns and accidental excessive deep dermal temperatures causing deep necrotic injury, irregular wound contraction, irregular fat loss/atrophy and notoriously unpredictable results.
Pelleve RF energy causes a heating effect at the deep dermal junction where skin meets subcutaneous fat that stimulates dermal fibroblasts to synthesize and remodel dermal collagen and elastin along with new extracellular matrix glycosaminoglycans, whilst existing dermal collagen is tightened for impressive results. In other words, "the RF-induced heat induces both immediate collagen contraction and delayed collagen, elastin and extracellular-matrix synthesis, by thermal induction of fibroblasts". The beneficial effects, combined, are both immediate and progressive over time.
The treatment experience is really quite pleasant and you should be able to go about your usual daily activities straight away or very soon afterwards. Pelleve is suitable for all racial skin types and is associated with very few side effects. Pelleve skin tightening is suitable for men and women.
Pelleve treatment is most commonly applied to the face, neck, decolletage (upper chest) and backs of hands.
Treatment with a general collagen stimulator such as Sculptra Aesthetic (PLLA) immediately after a Pelleve session may also yield enhanced collagen-stimulating results.
Please enjoy the videos about the Pelleve platform produced by my contemporary, Dr Nazarian, in Beverly Hills, California.
Pelleve Skin Tightening Therapy in Bristol
Pelleve skin tightening therapy is indicated for skin wrinkling and laxity in a variety of areas, the most common being the forehead and frown lines, the crow's feet, the area under and above the eyelids and the eyelids themselves, the nasolabial lines and lower face and more.
Dr Brad doesn't use the Pelleve device because he favours the 3D-Ultimate RadioFrequency treatment platform instead.
RadioFrequency (RF) Treatment Prices with Dr Brad
Click Here for the latest RF prices.