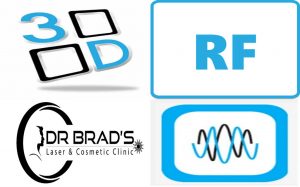 Dr Brad delivers safe and effective tri-polar radiofrequency (RF) treatments for face and body at his private clinic in Bristol.
These treatments are safe and effective for tightening the skin. It improves the appearance of fine lines and wrinkles due to ageing or loose skin after weight loss. Stretch marks can also respond to RF treatment. The treatment is delivered using the powerful 3D-Ultimate clinical platform.
The treatment works by delivering up to 50 Watts of alternating current (AC) electricity at 10 Giga-Hertz through the skin immediately underneath the treatment probe. This is all delivered in comfortable "continuous" mode rather than the less comfortable "pulsed" RF modes of earlier devices ie Thermage. The 2 different sized 3d-RF treatment probes have been designed to be both smooth and compact.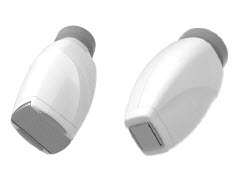 The electrical current cycles at the same frequency as "radiowaves", hence the name "RadioFrequency". Safety is assured because the frequency is sufficiently high not to interfere with muscle contraction, nerve or heart function. The energy starts off low and is gently increased throughout the treatment which causes heat to gradually develop within the skin.
This heat causes a contraction in the skin which tightens it. The heat also promotes local blood circulation bringing more oxygen and nutrients to the skin.
It also causes a small amount of fluid to accumulate within the skin (mild oedema) which gives a temporary boost to your appearance ie 24-48 hours.
Another benefit of the heat is in the thermostimulation of fibroblast cells which are responsible for both the production and reorganisation of collagen and elastin within the skin.
Watch Dr Brad delivering a 3D-RF treatment in the video below.
Radiofrequency Treatment Prices
The cost of Dr Brad's RF treatments are listed below.
One Session
Six Weekly Sessions (recommended)
Full Face
£294 (Save £100)

£1650

(£275 each:save £152)

Upper face
£197

£ 1050

(£175 each: save £132)

Lower Face
£197

£ 1050

(£175 each: save £132)

Neck
£197

£ 1050

(£175 each: save £132)

Full Face and Neck
£386 (save £105)

£2196

(£366 each:save £120)

Half abdomen
From £220

From £1260

(save £60)

Full abdomen
From £350 (Save £90)

From £2040

(save £60)
*Abdominal RF Skin Tightening treatments include optional acoustic shockwave treatment in the same session for enhanced results (£35 per session: 5% off when package of 6 paid upfront).
Call now to book your appointment for radiofrequency treatment with Dr Brad in Bristol today.