Laser Tattoo Removal in Bristol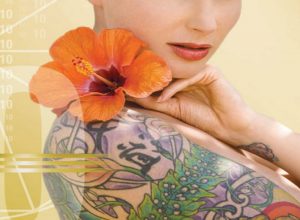 Dr Brad is Bristol's trusted expert in laser tattoo removal in Bristol and your first choice when it comes to safe and effective treatment.
Dr Brad uses a powerful "active Q-switched laser" called the DEKA QS4 to remove tattoos.
Choose Dr Brad for Laser Tattoo Removal in Bristol because:
He is a laser and cosmetic medicine expert with a price-match offer for anyone looking for

"laser tattoo removal in Bristol"

.
He is a practising NHS GP.
He uses a powerful, state-of-the-art laser, proven to be safe and effective in the treatment of all tattoo colours.
He is properly trained, insured and regulated.
He delivers the treatments himself and will stick with you throughout your course of treatment.
He can give full consideration to your physical, mental and drug history.
He can identify and manage any complications of treatment.
Dr Brad's premises and facilities have been independently and formally assessed to comply with "Laser Protection" and "Health & Safety" policies.
Why Choose Dr Brad's DEKA QS4 system for Laser Tattoo Removal:
The QS4 is an "active Q-switched laser". This is an established, "tried and tested" medical technology proven to be capable of destroying  tattoo pigments using the "photomechanical effect", often in a small number of treatments.  The safety profile of treatment with this device and technology has been well established. In contrast to "passive" Q-switched lasers, Dr Brad's system is able to generate high peak powers across the full width of his laser beams which are important for full and even tattoo clearance. Don't choose competitors' small, table-top lasers for this kind of work! Dr Brad's QS4 delivers 4 different wavelengths of laser, which is crucially important in being able to select the correct wavelength for the tattoo colour and pigments. Many competitors are only able to choose from 1-2 wavelengths so are limited in their ability to remove tattoos safely and effectively. In contrast, Dr Brad's system offers the "gold standard" in removing all colours of ink, as required. Competitor's ruby lasers are also associated with increased side-effects compared to Dr Brad's premiere system. Dr Brad's laser equipment is also serviced and maintained.
NOTE: DO NOT CHOOSE practitioners offering tattoo removal treatments that involve rubbing anything on your tattoo or injecting anything into or around your tattoo. Those kinds of treatments are ineffective and the risks of scarring are very high!!!
NOTE 2: BEWARE clinics offering suspiciously cheap tattoo removal with "pico-second" or "picosure" lasers. These are often unbranded, super-cheap imitation devices bought for a few hundred pounds from the Far East. They are untested, uncertificated and potentially dangerous. They get away with misleading their clients when they discuss safety and make unrealistic claims about the superiority of their equipment. Poorly qualified practitioners can get away with this due to the poor regulation of the industry in England.
Risks of Choosing A Budget Tattoo Removal Provider:
It is a shocking fact that laser and cosmetic treatments are essentially completely unregulated in the UK meaning that anyone can offer you treatment with any piece of equipment. This leaves the general public at serious risk! In more enlightened European countries only doctors are permitted to use lasers to treat patients. Inferior practitioners often operate at the lower end of the market, tempting members of the public who are drawn to a temptingly low price, unknowingly putting themselves at risk of dangerous or ineffective treatment. BEWARE!
Risks include:
You could end up with a practitioner who is not medically qualified in any way. Are you happy with an unskilled layman, for example, treating your skin?
You could end up being treated with equipment which is inferior or simply unsafe, perhaps despite its shiny appearance. Do you want to increase your risks of infection, scarring or treatment failure?
You could end up being treated with equipment which is under-powered, misfiring or producing an irregular beam if it hasn't been properly maintained. As a member of the public, how would you know?
You could end up being treated by a practitioner who doesn't properly understand the physics of laser science, is unable to properly select the correct parameters, test and increase them appropriately, let alone deliver them according to the strict safety regulations and protocols that should be adhered to. Is safety and professionalism important to you?
You could end up with a practitioner who isn't able to appreciate the full significance of your medical history, prescription drug regime, herbal supplements, mental health history, skin history etc. Why should you put yourself in the hands of an ignorant practitioner?
You could end up with a practitioner who isn't able to identify and independently manage complications of treatment. Don't expect that your NHS GP or NHS hospital will "pick up the pieces"!
Laser Tattoo Removal Prices in Bristol.
             Consultation and Test Patch.
£60 fee (included in cost of first full treatment when taken within 30 days).
Low risk patients with tattoos less than 9 square inches may proceed to treatment the same day, immediately after a test patch.
High risk patients or tattoos over 9 square inches may undertake full treatment 2-14 days after test patch. Dr Brad will personalise your plan at consultation.
              Standard Pricing.
£60 for the 1st square inch and £10 for each additional square inch.
             Special Colour Supplement.
"Sky Blue" or "Bright Green" inks may each attract a supplement of £60 per involved square inch.
            Special Areas.
Eyebrow Tattoo/Semi-Permanent Makeup removal: £100 a session
(for one or two eyebrows).
            Discount Packages.
Save 5% on any course of 6 tattoo removal treatments paid up front.
SPECIAL Price Match Offer.
Ask us to match any current written quote from any local tattoo removal clinic.
Eyebrow Tattoo Removal
Click here
to learn about how Dr Brad performs laser eyebrow tattoo removal. 
Aftercare Advice
Click here for laser tattoo removal aftercare advice.
Choose Dr Brad for your laser tattoo removal in Bristol today!