Laser Eyebrow Tattoo Removal.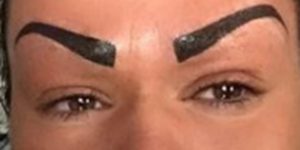 Safe, permanent laser eyebrow tattoo removal is available at Dr Brad's Clinic in Bristol.
Semi-permanent eyebrow tattooing or microblading is a popular treatment for enhancing the eyebrows.
However, people may decide to remove the tattoo for a variety of reasons.
The tattoo may have been applied incorrectly or to the dissatisfaction of the client.
The person may simply grow tired of the eyebrow shape and want to change the look.
The tattoo may have become discoloured over time.
Dr Brad can remove eyebrow tattoos quickly and safely using his own Synchro QS4 laser system.
Consultation and test patch costs £60.
Treatment typically costs £95 per session on a PAYG basis and treatment typically takes 3-6 sessions, 4 weeks apart.