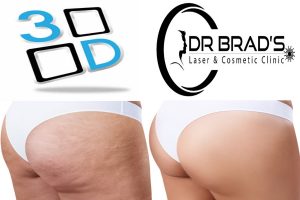 Cellulite is the presence of lumpy fat under the surface of the skin, most commonly affecting the female buttocks and thighs.
Cellulite can be treated using the 3D-Lipo Triple treatment but remember that in addition to smoothing out cellulite it will also reduce the volume/diameter/circumference of the area.
If you are happy with the size of your buttocks/thighs and just want to smooth out the cellulite then you can opt to receive Dr Brad's cellulite-specific protocol. This consists of an intensive fat-melting RF treatment penetrating 2-3cm under the skin combined with acoustic shockwave treatment.
Price
One session: £350
Course of 4 weekly sessions: £1300
Course of 8 weekly sessions: £2400
Call now to book your own appointment for cellulite reduction.