Lip Filler Injections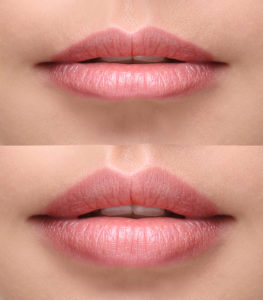 Full lips have always been popular!
There's no finer sight than a luscious set of lips and lip augmentation has long been a popular treatment to improve the appearance and quality of those lips.
Doctor Brad offers lip augmentation to improve the contour and/or the volume of your lips.
"Lip contour" refers to the definition and prominence of the edge of the lips. We call that edge the "Vermillion border".
"Lip volume" refers to how "plump" the lips appear.
Different people want different things from their lip augmentation so Doctor Brad takes the time to listen to your preferences and expectations before formulating a treatment plan with you.
For example, some patients will have seen the latest celebrity trend for highly voluminous lips with a pronounced pout and want to go for that look themselves.
Other patients will want a more natural and subtle look.
Either way, Doctor Brad recommends that his patients take a "little by little" approach to lip enhancement treatments. This is so that you can have time to assess how you feel about the results 2 weeks after treatment when any of the immediate swelling has settled down. It's easier to add further enhancement but very difficult to treat lips that have been over-filled until the filler has been reabsorbed over a period of months.  Top-up treatments, however, can be provided as required.
If you are someone who has a serious underlying dental problem, it might be best for you to seek orthodontic or cosmetic dentistry treatment before you receive lip fillers.
About Lip Filler Injections.
The injections themselves are very tolerable because Dr Brad gives you the choice of either topical anaesthetic cream or anaesthetic injection nerve blocks so you get a comfortable experience.
Lip fillers need not be a painful experience!
Dr Brad is skilled in the use of both cannulas and needles so he can select the best method for your particular treatment.
Doctor Brad only uses modern hyaluronic acid fillers because they have a long track record of being proven to be safe and effective for these procedures.
Doctor Brad's patients only get the best. You're in safe hands with Doctor Brad.
Don't delay. Book your lip fillers with the one and only Dr Brad today.