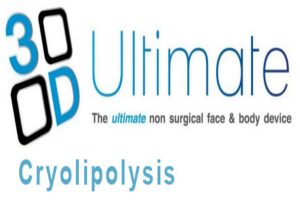 Dr Brad is proud to be able to offer the best in safe and effective non-surgical fat reduction treatment at his Bristol clinic.
Cryolipolysis is a treatment indicated for the reduction of localised areas of stubborn body fat.
Typical areas suitable for treatment include the male chest (AKA "man-boobs"/"moobs"), upper abdomen, lower abdomen, flanks ("muffin-top"), bra-roll, hips, backs of thighs, lower thighs, arm triceps.
Cryo treatments are most suitable for patients with a body mass index (BMI) of less than 35 but more overweight patients can often still opt for this treatment .
Before treatment, a fabric sheet containing fat-reducing and skin protecting molecules is laid over the treatment area. Treatment then involves the application of an appropriately sized cryo-cup to the mass of fat that is to be reduced. The vacuum technology sucks the roll of fat up into the cup and the fat-freezing process begins.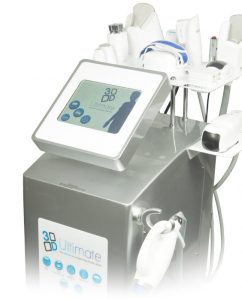 Healthy patients without medical contraindications can also benefit from the full cryo-electrolysis functionality in Dr Brad's premium 3D-Ultimate fat-freezing platform which passes a painless electrical current passed through their fat at the same time for enhanced results.
Patients report that their skin feels cold for the first few minutes but then becomes numb for the duration of the treatment so is a comfortable experience.  You can lay back and listen to headphones, read a book or use your mobile device. The whole fat-freezing treatment lasts no more than one hour and is followed by complimentary acoustic shockwave therapy on the treatment area which further enhances results.
Patients opting to receive the complimentary shockwave therapy can also undergo a repeat cryo treatment on the same area just 6 weeks later rather than the standard 12 weeks. Typical patients can expect to see a fat reduction of up to 40% in the treated area that develops over 6-12 weeks.
Watch Dr Brad perform a fat freezing procedure on the abdomen in the video below…
Dr Brad also offers a specialist treatment for the "double chin" which involves the application of a specialised cryo-cup under your chin and is great for contouring your profile. Here's a video of Dr Brad delivering the treatment.
Cryo treatments can easily be combined with a program of Dr Brad's "3D-Lipo Triple" therapy or "Body HIFU"  therapy for enhanced fat-loss and body sculpting results.
Dr Brad has invested in the full range of fat freezing cups so that treatment can be tailored to your body size and problem area. Furthermore, you can benefit from additional savings if you need a smaller cup size.
Dr Brad carries out all of these treatments himself, in clinic, so you are always under the direct supervision of a medical doctor who has expertise in this treatment. If you wish to bring a friend or chaperone you are welcome to do so.
Prices
Body Areas
One" area" is one side of the chest, upper abdomen, lower abdomen, one flank, one bra roll, one upper thigh, one lower thigh, one hip, one tricep. For example, to treat "both hips" costs "2 areas".
| | | | |
| --- | --- | --- | --- |
|   | Large Cup | Medium Cup | Small Cup |
| 1 area | £275 | £260 | £250 |
| 2 areas | £345 | £330 | £310 |
| 3 areas | £610 | £580 | £550 |
| 4 areas | £680 | £645 | £610 |
* Prices apply to treatments taken during one appointment session.
** Includes complimentary acoustic shockwave treatment immediately afterwards to enhance results.
Double Chin
| | |
| --- | --- |
| One cryo-cup | £210 |
| Two cryo-cups | £275 |
*Larger double chins may require two cups in the same session for best results.
Call now to book your initial consultation and start your own body contouring journey with Dr Brad.