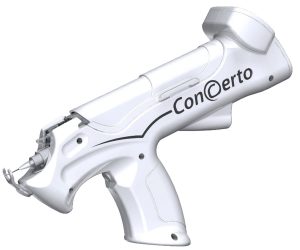 Dr Brad is able to offer carboxytherapy treatments for hair loss using his premium Concerto device.
Carboxytherapy involves the injection of medical grade CO2 under the scalp skin to stimulate increased blood flow and hair growth. Carboxytherapy only uses CO2 so can be considered a very natural treatment and doesn't involve blood products or the administration of drugs or supplements. This treatment is indicated for people suffering from most non-scarring alopecia (alopecia areata), (androgenetic alopecia) male pattern baldness and female pattern baldness or hair loss. The treatment is supported by published, peer-reviewed scientific research literature.
Treatments are very tolerable because they involve the use of only very fine needles, top of the range equipment and the whole scalp can often be treated in under 15-30 minutes for minimum inconvenience.
Patients experience a sensation of warmth at the treatment area and the CO2 is rapidly absorbed, typically over 20-30 minutes so most people essentially  experience no downtime.
Dr Brad recommends a treatment weekly (minimum of fortnightly) for 3 months.
It can also be used both before and after hair transplants which is thought to promote the health and survivability of hair grafts by promoting the vascular supply to the scalp.
Carboxytherapy should not be performed by non-medical personnel and is inappropriate for people with severe heart, lung or kidney disease, pregnant or breastfeeding.
Prices.
£125 per session.
£97 per session for a package of 12 sessions paid upfront: £1164 (save £336).
£93 per session for a package of 24 sessions paid upfront: £2232 (save £768).
(5% discount when any carboxytherapy treatment or package is taken with an injectable hair restoration package).
HairMax Laser Treatment Upgrade
Why not enhance your treatment by adding a genuine HairMax laser therapy session to your session for just £22.
Treatment is safe, painless and has been scientifically shown to be effective.
(10% off with any package of 12 or 24 HairMax sessions alongside carboxy).
AQ Hair Complex Plus Solution Upgrade
Add AQ Hair Complex Plus solution to your scalp after each injectable hair restoration treatment, rich with human hair follicle growth factors to further promote hair growth for just £30 per session.