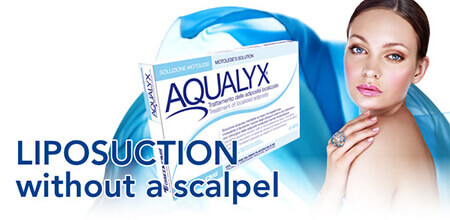 Dr Brad offers safe and effective "fat dissolving injections" at his private Bristol clinic to reduce and eliminate fat without resorting to surgery.
Dr Brad uses the popular Aqualyx product for this treatment.
As an advanced practitioner, Dr Brad administers treatment using the intra-lipotherapy technique which is more efficient, quicker and less painful than mesotherapy techniques.
The key active ingredient in Aqualyx is deoxycholate. Deoxycholate is a substance found naturally in your body, used in the digestion of fats in your food. When medical-grade deoxycholate is injected into areas of fatty tissue under the skin it causes those fat cells to break pen and die, releasing their fatty contents. These are safely reabsorbed through the bloodstream and lymphatics before being naturally processed away by your liver.
A suitable patient must be able to "pinch" at least 1.5cm of fat at the treatment site and understand that this treatment reduces fat at the treatment site and is not a general weight loss treatment.
Dr Brad's medical qualifications, modern facilities and competitive prices make him the natural choice for anyone seeking fat dissolving treatment in Bristol.
(Please beware cheap offers from salons who we suspect are using diluted or insufficient quantities of product).  
Patients typically undergo 3-6 sessions (depending on response), 6 weeks apart. You can follow Aqualyx with 3D-cryolipolysis but treatments should be taken 6 weeks apart
Working with you, Dr Brad can customise his Aqualyx treatment to your individual requirements.
Prices.
Double Chin: £300 per  session, £870 for 3 sessions.
Jawline: £300 per  session, £870 for 3 sessions.
Double Chin & Jawline:  £500 per session, £1350 for 3 sessions
Upper Arms or Thoracic "bra" Roll or Inner Thighs or Knees : £300 per  session, £870 for 3 sessions.
Full Abdomen or Hips or Flanks (Saddle Bags): £475 per session, £1280 for 3 sessions.
Typical Lipoma: £300 per session.
Ultrasound Cavitation Upgrade.
Scientific papers have shown that Aqualyx treatments can be enhanced by the application of ultrasound energy which causes an increase in the breakdown of fat cells in the treatment area.
We are one of the few clinics equipped to offer premium ultrasonic fat cavitation equipment.
Treatment is delivered after Aqualyx and can be safely delivered to the abdomen, flanks, thighs, hips or knees.
The ultrasonic fat cavitation treatment costs £200 per session or £540 for a course of 3.