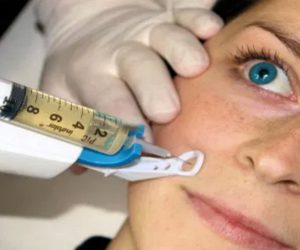 If you want a mesotherapy treatment to boost your skin quality that contains more than just hyaluronic acid alone and 2-3x more volume of product in one session, for the same price you can receive Dr Brad's "Age-Resist" Cocktail.
Watch Dr Brad deliver the "Age Resist Cocktail" to the decolletage of a young lady in the following video:
Dr Brad uses his premium Pistor Eliance mesogun to administer this treatment using the nappage technique and you can expect to receive many more injection points and treatment to multiple layers of the skin during this treatment. The effect of the needling is similar to that induced by a dermaroller treatment which is effective in stimulating collagen synthesis all by itself so you essentially get that additional benefit bundled in to this treatment.
A course of 3-6 treatments delivered every 1-2 weeks is recommended, followed by treatments 4 times a year thereafter for maintenance.
Dr Brad's Special "Age Resist" Cocktail program delivers the following premium nutrients to boost your skin:
Hyaluronic Acid (a mixture of low and medium molecular weight HA): a solution of non-crosslinked hyaluronic acid of medium molecular weight, specially designed to obtain long-lasting results. Hyaluronic acid has the capacity to retain water in a percentage equivalent to thousands of times its molecular weight, providing volume and promoting skin hydration. It activates fibroblastic functions and the synthesis of collagen, as well as various skin growth factors slowing down the ageing processes
DMAE (Dimethylaminoethanol):
Fights against sagging muscles by creating muscle tone.
Provides a lifted and firm appearance to sagging skin.
Treats not only the symptoms but the cause of loss of firmness in the skin.
Functions as an antioxidant and helps keep the cell membrane intact.
Reduces stress to the cell and inhibits production of arachidonic acid and other chemicals responsible for pain and inflammation.
Sodium-DNA:
Has powerful antioxidant action.
Improves skin trophism.
Acts at the cellular level modifying cell in the basal level of the epidermis.
Stimulates cell proliferation.
Acetyl Hexapeptide-8:
Prevents the formation of wrinkles caused by frowning and smiling.
Sodium Pyruvate:
Sodium Pyruvate is used for the synthesis of amino acids and is a dermal stimulant in collagen synthesis. It stimulates cellular respiration and fibroblast activity. It is a fundamental element in the conservation and regeneration of ATP, in charge of muscle contractions, that helps to fight against flaccidity and provides tightening effect on ageing skins.
L-carnitine:
Increases the intracellular energy supply
Intervenes in several physiological skin muscle repair processes
Improves muscle contraction and tone
Helps rebuild the natural collagen network of the skin
Repairs scars and marks
Organic Silicon:
Regulates and normalizes tissue hydration, metabolism and cell division.
Participates in the formation of collagen and elastin.
Prevents the cross-linking that gives rigidity to the connective tissue, what causes premature aging.
Regulate, normalizes and stimulates cell metabolism.
Opposes lipid peroxidation and, therefore, the formation of free radicals too.
25 amino acids, 4 nucleic acids, 2 co-enzymes, 2 antioxidant reducing agents, multivitamins and minerals: the molecular building blocks of key proteins within the skin along with an assortment of complex molecules that are essential for optimum skin health.
Prices.
Dr Brad prepares and delivers these treatments personally.
Choose from the following single areas: Upper 1/3 of Face; Lower 2/3 of face; Neck; Upper Chest (Decolletage); backs of both hands; one side of both forearms; one side of both upper arms.
Most abdominal skin treatments usually count as 2-3 areas due to the increased surface area and product required.
| | | | | |
| --- | --- | --- | --- | --- |
| Number of Areas | One Treatment | Course of 3 Treatments | Course of 4 Treatments | Course of 6 Treatments |
| 1 | £300 | £855 | £1116 | £1656 |
| 2 | £450 | £1283 | £1674 | £2484 |
| 3 | £600 | £1710 | £2232 | £3312 |
| 4 | £750 | £2138 | £2790 | £4140 |
| 5 | £900 | £2565 | £3348 | £4968 |
| 6 | £1050 | £2993 | £3906 | £5796 |
| 7 | £1200 | £3420 | £4464 | £6624 |
| 8 | £1350 | £3848 | £5022 | £7452 |
| 9 | £1500 | £4275 | £5580 | £8280 |
| 10 | £1650 | £4703 | £6138 | £9108 |
| 11 | £1800 | £5130 | £6696 | £9936 |
| 12 | £1950 | £5558 | £7254 | £10764 |